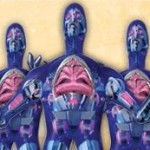 This coming fall, Nickelodeon will start airing the third TMNT animated series, dubbed Teenage Mutant Ninja Turtles. Not many details have been released officially regarding the series, so in an effort to inform you, ninja turtles fans, i gathered in this post all the information that i can find regarding the upcoming show.
Below is the second part of this series of articles, if you have not read Part 1 yet you can do so by clicking here.
The Allies:
April Oneil:

You cannot have a Ninja turtles show without April. In this series, Miss Oneil is neither a reporter in a yellow jumpsuit, nor a lab assistant to Baxter, instead she is a 16 years old teenager who lost her family and feels more comfortable with the turtles than with her high-school friends. According the to the producers, the reason behind April's age change was due to the fact that it felt weird that a grown young woman will hang out with 15-16 years old boys (the turtles).