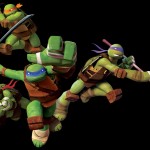 This coming fall, Nickelodeon will start airing the third TMNT animated series, dubbed Teenage Mutant Ninja Turtles. Not many details have been released officially regarding the series, so in an effort to inform you, ninja turtles fans, i gathered in this post all the information that i can find regarding the upcoming show.
Premise:
Nick's Teenage Mutant Ninja turtles will be the a CGI show, meaning the series will be animated with computer graphics rather than traditional hand drawn animation. According to the lucky few who saw some of the unreleased series clip, the animation is very slick and looks very promising.
The show will be unlike any of the two previous TMNT animated series. While it will not be a goofy incarnation like the original 1987 cartoon, it will also not be as dark and gritty as the 2003 incarnation.
When asked about what to expect from this show, IDW head writer for the current Ninja turtles comics, Tom Waltz, had this to say: " So… finally got a chance this week to read a bunch of the new animated show's scripts. Can't say a whole lot about the specifics (sworn to secrecy on penalty of a slow, torturous death) but will tell you all this much: If this show (and its associated merchandise) doesn't create a whole new wave of TMNT Mania, especially amongst youngsters, I will honestly be shocked. Every script I've read has been enjoyable from start to finish — action-packed, funny, and dramatic where it needs to be.
It is true to the heart and soul of TMNT animated history, but it's definitely not the 80's toon, nor the 4Kids toon. Nah, it is most definitely its own thing and, man, it's really good!
The Turtles will reign supreme once again — I'm calling it right now. And I couldn't be prouder to be a part of it, both as a creator AND a fan!" Read more...