This coming fall, Nickelodeon will start airing the third TMNT animated series, dubbed Teenage Mutant Ninja Turtles. Not many details have been released officially regarding the series, so in an effort to inform you, ninja turtles fans, i gathered in this post all the information that i can find regarding the upcoming show.
Premise:
Nick's Teenage Mutant Ninja turtles will be the a CGI show, meaning the series will be animated with computer graphics rather than traditional hand drawn animation. According to the lucky few who saw some of the unreleased series clip, the animation is very slick and looks very promising.
The show will be unlike any of the two previous TMNT animated series. While it will not be a goofy incarnation like the original 1987 cartoon, it will also not be as dark and gritty as the 2003 incarnation.
When asked about what to expect from this show, IDW head writer for the current Ninja turtles comics, Tom Waltz, had this to say: " So… finally got a chance this week to read a bunch of the new animated show's scripts. Can't say a whole lot about the specifics (sworn to secrecy on penalty of a slow, torturous death) but will tell you all this much: If this show (and its associated merchandise) doesn't create a whole new wave of TMNT Mania, especially amongst youngsters, I will honestly be shocked. Every script I've read has been enjoyable from start to finish — action-packed, funny, and dramatic where it needs to be.
It is true to the heart and soul of TMNT animated history, but it's definitely not the 80's toon, nor the 4Kids toon. Nah, it is most definitely its own thing and, man, it's really good!
The Turtles will reign supreme once again — I'm calling it right now. And I couldn't be prouder to be a part of it, both as a creator AND a fan!"
Staff:
The new show will be produced by Nickelodeon where it will air this coming Fall. Three of the writers of the show are: Russ Carney, Ron Corcillo, and Kenny Byerly. The voice cast of the main characters are as follow:
Leonardo: Jason Biggs (most famous for his lead role in the "American Pie" series as Jim Levestein)
Raphael: Sean Astin (The actor who played Sam in the Lord of the rings trilogy)
Donatello: Rob Paulsen (same actor who provided the voice of Raphael in the original 1987 TMNT cartoon)
Michelangelo: Greg Cipes (Played Beast Boy in the Teen Titans animated series)
April O'Neil: Mae Whitman (Played Anne Veal from "arrested developmental" and Katara in Avatar animated series)
Master Splinter: Hoon Lee
Shredder: Kevin Michael Richardson (Played the voices of: Joker in The Batman animated series, Tombstone in the Spectacular spider-man, Bishop in wolverine and The x-men and many  other roles)
Acting as a Voice Director is none other that Andrea Romano, who is very famous for her DC animated related work such as Batman The animated series, super-man animated series, and pretty much, most, if not all, of DC animated movies such as Green lantern first flight, Justice League: Crisis on two earths, Justice League the new frontier etc… where she always acted as voice or acting director.
Working on the animation Department is Alex Deligiannis. Other Staff members include Ciero Nieli, JR Ventimilia, and Joshua Sternin as show producers, as well as Peter DiCicco for an unspecified role.
The Turtles:
– The Turtles in nick's TMNT will come in different sizes, with Donatello being the tallest. Built wise, the turtles will be a bit skinnier than other shows since, according to the show makers, they are teenagers therefore they wshould not have body builders bodies. Interestingly enough, for an unexplained reasons, the Turtles will have three toes, instead of the trademark two toed feet.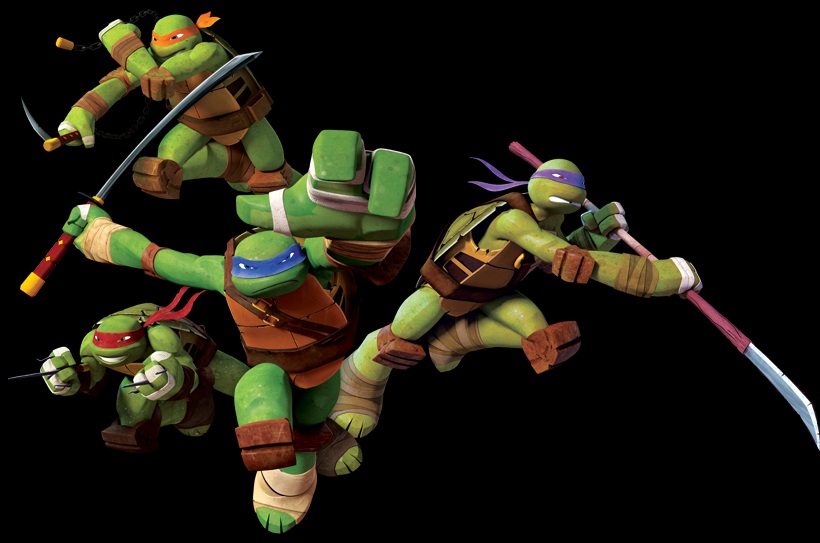 – As you can see from the picture above, the Turtles have different shades of green and Donatello seems to be tooth gaped. This is a detail that is being missing in the latest released picture from Nickelodeon, so you do not know if a decision as been made to remove the gap.
– Personality wise, The turtles are pretty much the same as in the comics and 2003 series. Meaning, Leonardo will be the leader, Raphael is the rude, short tempered guy, Donatello is the geek and mahcines expert, and Michelangelo is the comic relief. The producers also reassured that while Mikey is the comic relief he is still strong and kick butt.
– Last but by no means least: The weapons. Leo and Raph have both their classic weapons intact, while Mikey and Don received an upgrade. Michelangelo still has the nunchucks but also has a Kusarigama (seen above). As for Donnie, while he still has hi bo staff, it can be turned into a Naginata, which is bladed, spear like bo staff (seen above)
Splinter:
The turtles rat sensei has received quite a change. First, he is Hamato Yoshi himself and not his mutated pet. He is younger and more agile than ant previous incarnation. It was also stated that this version of Splinter can feel the universe's vibration making him able "to project and sense energy and the intentions of others".
Splinter also had a wife and Daughter prior to be muatated to a rat. His wife was murdered (we assume at the hand of Shredder), while we are not sure if his daughter is alive or not. Rumor has it, that after he lost his family, Splinter started living in the sewers with his four pet Turtles.
That's it for Part 1, i hope you enjoyed our short article and make sure to join us in the next 2 days for what we know so far about April, The shredder and his foot soldiers and the Krang.
Make sure to follow us on Twitter, by clicking on the link below, to stay up to date with the latest TMNT news:
Like this post? Share it with your friends